Conference Location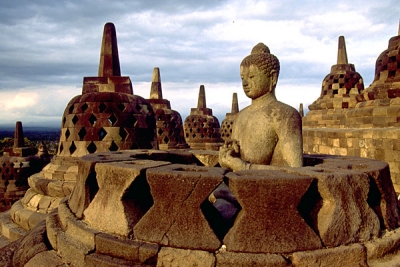 The conference will take place at the Bali Dynasty Resort Hotel, Jl Kartika, PO BOX 2047 Tuban 80361, South Kuta Bali, Indonesia.
Download the following guide with answers to all questions you may have regarding the location and how to get there:
Bali is an island and province of Indonesia. The province includes the island of Bali and a few smaller neighbouring islands, notably Nusa Penida, Nusa Lembongan, and Nusa Ceningan. It is located at the westernmost end of the Lesser Sunda Islands, between Java to the west and Lombok to the east. Its capital of Denpasar is located at the southern part of the island. With a population of 3,890,757 in the 2010 census,[4] and 4,225,000 as of January 2014, the island is home to most of Indonesia's Hindu minority. According to the 2010 Census, 83.5% of Bali's population adhered to Balinese Hinduism, followed by 13.4% Muslim, Christianity at 2.5%, and Buddhism 0.5%. Bali is a popular tourist destination, which has seen a significant rise in tourists since the 1980s. It is renowned for its highly developed arts, including traditional and modern dance, sculpture, painting, leather, metalworking, and music. The Indonesian International Film Festival is held every year in Bali. Bali is part of the Coral Triangle, the area with the highest biodiversity of marine species. In this area alone over 500 reef building coral species can be found. For comparison, this is about 7 times as many as in the entire Caribbean. There is a wide range of dive sites with high quality reefs, all with their own specific attractions. Many sites can have strong currents and swell, so diving without a knowledgeable guide is unadvisable. Most recently, Bali was the host of the 2011 ASEAN Summit, and the 2013 APEC.
The tourism industry is primarily focused in the south, while significant in the other parts of the island as well. The main tourist locations are the town of Kuta (with its beach), and its outer suburbs of Legian and Seminyak (which were once independent townships), the east coast town of Sanur (once the only tourist hub), in the center of the island Ubud, to the south of the Ngurah Rai International Airport, Jimbaran, and the newer development of Nusa Dua and Pecatu. Bali received the Best Island award from Travel and Leisure in 2010. The island of Bali won because of its attractive surroundings (both mountain and coastal areas), diverse tourist attractions, excellent international and local restaurants, and the friendliness of the local people. According to BBC Travel released in 2011, Bali is one of the World's Best Islands, ranking second after Santorini, Greece.