Conference Location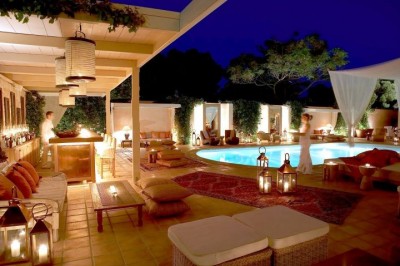 The conference will take place at Hotel Margi, 11 Litous Street, Vouliagmeni, Athens, Greece.
Download the following guide with answers to all questions you may have regarding the location and how to get there:
Vouliagmeni is a seaside town 20 km south of Athens. It sits on the southwestern foot of the Hymettus mountain range. It is bisected by a palm tree lined boulevard, Athinas Avenue, which arrives from Athens as Vouliagmenis Avenue, then runs parallel to the seashore and continues southwards. The area east of the main road is the rocky slope of a foothill of Mount Hymettus, and the bulk of the town is built there, along with the local elementary school, post office, banks and town hall.

The western half, located between Athinas Avenue and the sea, is covered with pine trees and consists of two peninsulas, Megalo and Mikro Kavouri ("Big Crab" and "Little Crab") that feature sandy and pebble beaches in between rocky shores, luxury hotels, the local high school, the picturesque chapel of "St. George of the crab", two marinas, an aquatic sports club, a sports club (soccer, basketball, volleyball, tennis) and upscale restaurants, taverns and cafeterias on the waterfront. The Vouliagmeni beaches are consistently awarded the coveted EU blue flags for environmental excellence. The triathlon competition for the 2004 Summer Olympics took place in this area. The small, rocky islet of Fleves lies off shore.

Immediately to the south of town and very close to the sea, a rare geophysical formation is to be found that gave the suburb its modern name: Lake Vouliagmeni ("Sunken Lake"), a small fresh-water lake fed by underground currents seeping through the mass of Mount Hymettus. It was once a large cavern that collapsed following an earthquake, probably during the early Middle Ages. The outline of the collapsed cavern roof can be clearly discerned from a distance. The lake stands at a 40 cm elevation, and its water maintains a constant 24 degrees Celsius temperature year round. It continues deep inside the mountain in an underwater cave never fully explored, as its end seems impossible to trace even by employing sonar detection. Because of its constant and comfortable water temperature, the lake functions as a year-round spa.