Conference Location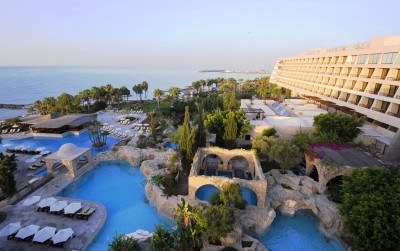 The conference will take place at Le Méridien Limassol Spa & Resort, Old Limassol Nicosia Road, 4534 Limassol, Cyprus.
Download the following guide with answers to all questions you may have regarding the location and how to get there:
Limassol (Lemesos) is the biggest Cypriot port in the Mediterranean transit trade. It has also become one of the most important tourism, trade and service-providing centres in the area. Limassol is renowned for its long cultural tradition, and is home to the Cyprus University of Technology. A wide spectrum of activities and a number of museums and archaeological sites are available to the interested visitor. Consequently, Limassol attracts a wide range of tourists mostly during an extended summer season to be accommodated in a wide range of hotels and apartments. A large marina is currently being constructed near the old town.
Limassol was built between two ancient cities, Amathus and Kourion, so during Byzantine rule it was known as Neapolis (new town). Limassol's tourist strip now runs east along the coast as far as Amathus. To the west of the city is the Akrotiri Sovereign Base Area, part of the British Overseas Territory of Akrotiri and Dhekelia.
During the last years, Limassol has experienced a construction boom fuelled by the tourist sector as well as from increasing foreign investments in the city. Public projects like the redesigning of the city's 1 kilometre promenade, are improving the quality of life of the people and the image of the city as a cosmopolitan destination. Infrastructure improvements partly funded by European programmes have helped solve traffic problems that the city faced with the construction of new highway flyovers and roundabouts.